Jump to navigation
Jump to search
This is the first game in the Wild Arms series. For other games in the series see the Wild Arms category.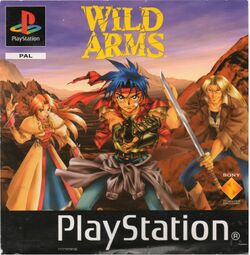 Neoseeker Related Pages
Links
Wild Arms (ワイルドアームズ, Wairudo Āmuzu) is a role-playing game developed by software company Media.Vision and originally released in Japan in 1996 for the PlayStation video game console and was later translated and released in North America in 1997 and Europe in 1998 by Sony Computer Entertainment. It is noteworthy for not only being one of the first role-playing video games on the PlayStation, but one of the few to feature a Western American setting and motif. The game features two-dimensional graphics for normal gameplay, while battle sequences are rendered in 3D.
In November 2003, an enhanced remake of Wild Arms, titled Wild Arms Alter Code: F, was released for the PlayStation 2 in Japan, with a North American version produced in 2005. In addition to enhanced graphics, Alter Code: F also features an expanded script, remastered soundtrack, new characters, and additional gameplay scenarios.
On December 6, 2007, Wild Arms was made available on the PlayStation Network, through which it can be played on the PlayStation Portable and, as of Operating System update 1.70, on the PlayStation 3.
Taking place in the fantasy world of Filgaia, Wild Arms follows the adventures of a band of miscreants and adventurers called Dream Chasers who scour the world in search of excitement and fortune. The player must assume control of a young boy named Rudy who has the ability to operate powerful weapons called Ancient Relic Machines (ARMs), forbidden remnants of a lost age that resemble guns. Along with his companions Jack and Cecilia, the group must use their respective skills to navigate through the vast wastelands and dungeons of Filgaia and prevent an otherworldly threat from reviving their lost leader and destroying the world.
Table of Contents