Jump to navigation
Jump to search
This is the first game in the Winning Run series. For other games in the series see the Winning Run category.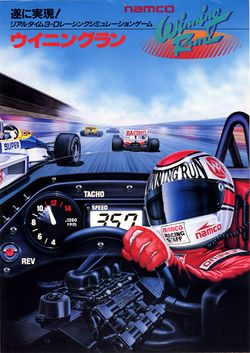 Winning Run is Namco's first 32-bit arcade game, released at the end of 1988, and running upon the company's then-new System 21 hardware (which is identical to their System 2 hardware but modified to support a 32768-colour palette); it is a first-person racing game in which the player takes control of one of two different cars (a blue one named "EASY" and a red one named "TECHNICAL"), in either a "PRACTICE" or a "GRAND PRIX" race. As with both Pole Position games and Final Lap, the controls are comprised of: a steering wheel (to steer your car left and right), a gear shifter (to change the gear your car is driving in but the two cars in this game have six different ones), a gas pedal (to accelerate your car), and a brake pedal (to decelerate your car) - the filled three-dimensional polygonal graphics are also reminiscent of the ones introduced in Atari's I, Robot (which was released five years earlier).
This is the first title in the Winning Run series; it was followed by two sequels: Winning Run Suzuka Grand Prix (1989) and Winning Run '91 (1991). Gameplay for Driver's Eyes (1990) is also similar to that of this series (but it utilizes a total of three monitors rather than just a single one) - and "Suzuka Grand Prix" also allows up to four players to play it simultaneously when four single-player cabinets are linked together (much like Namco's own Dirt Fox), and it is the third game from that company to feature the Suzuka Circuit after Pole Position II back in 1983 and the original "Final Lap" from 1987. However, its successor, "Winning Run '91", does not allow this up-to-four-player simultaneous play.
Table of Contents