Jump to navigation
Jump to search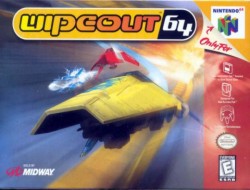 Wipeout 64 is the third game in the Wipeout series and the only one for the Nintendo 64. At the time of the game's release, developers Psygnosis had been owned for five years by Sony Computer Entertainment, for whose hardware all subsequent Wipeout games have been released exclusively.
Set in 2098, just a year after Wipeout 2097, Wipeout 64 introduces several elements to the Wipeout series: analog control is embraced, thanks to the Nintendo 64's in-built analog stick, to the extent that digital control - familiar to players of the previous games - is disabled, even though the controller has a digital pad. Analog control left and right was only possible on previous games for owners of Namco's neGcon controller and owners of the PC versions, which would make use of an analog stick if available.
Split-screen multiplayer makes an appearance for the first time, as does Challenge Mode – where the player has to complete sets of challenges in predefined classes and tracks: either getting the fastest time (Time trial), the highest placing (Race), or eliminating the most opponents (Weapon).
Table of Contents