Jump to navigation
Jump to search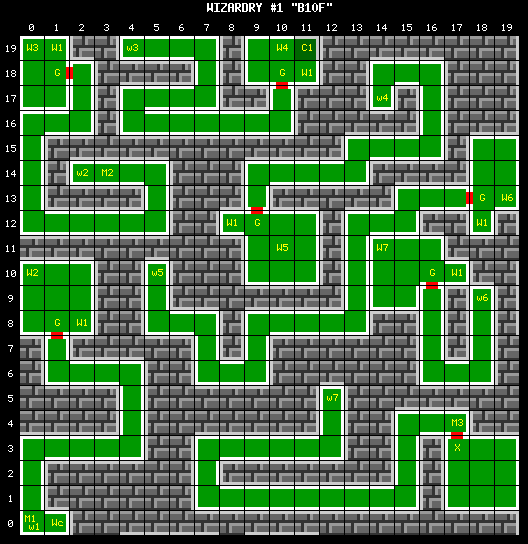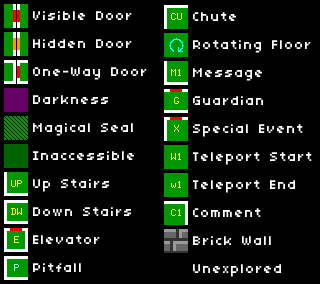 The final level of the maze is actually split into seven distinct rooms that are only connected by teleportation tiles. There are actually three different kinds of teleportation tiles that you should be aware of. The first is located immediately to the right of your arrival on the floor, and it sends you directly back to the castle. The second type are the tiles that actually advance you forward to the next room or location on the floor. The final type are the tiles that exist in the first six rooms, which send you back to beginning of the first room. These tiles, in combination with the first type, can get you quickly back to the castle in case your party suffers tremendous damage and you find them in no condition to face Werdna.
Remember that you cannot cast MALOR to teleport into this floor. Nor can you use it while you reside on the floor, unless you use it to rise up to a higher floor. In addition to MALOR not working, neither does DUMAPIC, although this shouldn't be a tremendous problem since the layout of this level is fairly straightforward. There are six guardians behind the doors found in the first six rooms. Over half of the level is rock. Strong and valuable items are typically left by the monsters that you defeat on this level. It all leads up to the climactic final battle with evil wizard Werdna at the end of the level.
Message 1 / w1 (E0-N0)
[
edit
]
INSCREIBED ON AN ORNATE, GOLD PLAQUE IS A MESSAGE.
THE SCRIPT IS ORNATE, AND BLINKS IN VARIOUS COLOR:
"YOU ARE TRESPASSING ON THE DOMAIN OF ** WERDNA **.
THERE IS NO POSSIBILITY THAT YOU CAN GET PAST MY GUARDIANS!
SO SURE AM I OF MY DEFENSES THAT I GIVE YOU THIS CLUE: "
"CONTRA-DEXTRA AVENUE"
PS - TREBOR SUX!

After falling down the chute, you are greeted with this message. The clue that Werdna gives you is written in latin. "Contra-dextra avenue" can be interpreted as "Don't travel to the right." This warning applies to every room guardian battle. After the battle concludes, if you turn right and walk forward, you will hit the warp which sends you back to the first room. Unless you are looking to lengthen the amount of time it takes for you to reach Werdna, heed this advice.
Warp to CASTLE (E1-N0)
[
edit
]
If you step on this tile, you will be automatically transported back to the castle.
Warp Zone 1 (E1-N19, E2-N8, E8-N12, E11-N18, E17-N10, E18-N12) ⇒ M1 / ​​w1 (E0-N0)
[
edit
]
All six of these tiles do the same thing: return you back to the starting point of room 1. From here, you can easily access to warp mentioned above and return to the castle. No such warp exists in the seventh and final room, so once you arrive there, your only choice is to face of with Werdna.
Warp Zone 2 (E10-N0) ⇒ w2 (E2-N14)
[
edit
]
Warp Zone 3 (E0-N19) ⇒ w3 (E4-N19)
[
edit
]
Warp Zone 4 (E10-N19) ⇒ w4 (E14-N17)
[
edit
]
Warp Zone 5 (E10-N11) ⇒ w5 (E5-N10)
[
edit
]
Warp Zone 6 (E19-N13) ⇒ w6 (E18-N9)
[
edit
]
Warp Zone 7 (E14-N11) ⇒ w7 (E12-N5)
[
edit
]
These are the six teleportation tiles that advance you from one room to the next. By stepping on each of these tiles, you will eventually wind up in the corridor that leads to Werdna's chamber.
Room Guardians (E1-N8, E1-N18, E9-N12, E10-N18, E16-N10, E18-N13)
[
edit
]
On your way to do battle with Werdna, you must succeed in battle with six room guardians that are found behind each door. They will no doubt be among the toughest monsters you can possibly face in the maze, so part of your preparation for this floor must be possessing enough supplies to withstand six battles and heal yourself back up before the ultimate fight.
Message: 2 (E3-N14)
[
edit
]
ONE GROUP OF GUARDIANS HAVE BEEN DEFEATED, BUT THERE ARE MANY MORE.
TURN BACK WHILE YOU CAN, FOOLS!

This warning merely reminds you that you must survive many more battles with room guardians before you reach Werdna.
Comment 1 "Virgin Area" (E11-N19)
[
edit
]
This is merely a strange coincidence of the way this level is arranged. Because of the presence of two teleport tiles on two sides and two walls on the other side, there is no actual way to maneuver into this location. It is possible that you might cast MALOR in battle and randomly end up here, but those chances are exceedingly small. Nevertheless, it is an ordinary tile with nothing of interest.
Message 3 (E17-N4)
[
edit
]
A DESCREET SIGN ON THE WALL READS:
LAIR OF THE EVIL WIZARD WERADNA! OFFICE
HOURS 9AM TO 3PM BY APPOINTMENT ONLY
THE WIZARD IS * IN *!

This message is your indication that, right on the opposite side of the door, you will find Werdna. Take the opportunity to camp here and prepare yourself for the battle ahead, then kick the door in and take the evil wizard down.
Werdna (E17-N3)
[
edit
]
You won't encounter Werdna alone. Instead, he has a cadre of vampires in his company. In addition to Werdna, you will face off with a Vampire Lord, and four Vampires. In other versions, a second pack of Vampires may also be present. Throughout the battle, your two major offensive spell attacks from mages should be TILTOWAIT and MADALTO, while Priests should cast the spell of MABADI to make very short work of the Vampires, and MILIKTOS on everyone else. The Vampires can nullify a Priest's Dispel, but the Vampire Lord is sometimes susceptible to ZILWAN. Focus your melees fighters on no one but Werdna until he is defeated. Werdna may also cast TILTOWAIT on you, and will also occasionally cast KATINO or LAKATINO to make matters more complicated.
If the you happen to be unlucky and the monsters get the first chance to strike, it will be incredibly difficult to stage a come back, and you're better off casting MALOR to escape from battle. In this case, you will always be teleported to Floor 1, so you don't have to worry about winding up in stone. Stay at the Inn and return to the tenth floor for a second attempt.
When you finally defeat these tremendous opponents of evil, you will ultimately be rewarded with the AMULET of WERDNA. There is no obvious means of exiting and returning to the castle (except on the Game Boy Color version where an extra teleportation tile is provided), so you will have to cast MALOR to exit, provided you still have the ability to cast one more Level 7 Mage spell. If you don't, there's good news: the AMULET can cast MALOR for you. Just don't equip it, as it is cursed. When you reach the surface, you will earn 50,000 experience points and 50,000 pieces of gold. You will also be greeted with the following message, except in the original Apple II version:
* * CONGRATULATIONS * *

YOU HAVE RECOVERED THE AMULET
AND PASSED THE OVERLOAD'S TEST!

AS A REWARD, THE MAD OVERLOAD
HAS GRANTED YOU 50,000 GP AND EP!

HE HAS ALSO INDUCTED YOU INTO HIS ELITE GUARD.
WEAR THE CHEVRON OF RANK (>) WITH HONOR.

! END!

In the original Apple II version, you will see instead the following when you reach the surface:
         *** CONGRATULATIONS ***

YOU HAVE COMPLETED YOUR QUEST AND THE
AMULET IS NOW BACK IN THE HANDS OF
YOUR BENIFICENT RULER, TREBOR.

IN RETURN FOR THIS, HE GRANTS YOU A
BOON OF 250,000 EXPERIENCE POINTS
EACH!

ADDITIONALLY, YOU WILL BE INITIATED
INTO THE OVERLORD'S HONOR GUARD AND
THUS WILL BE ENTITLED TO WEAR THE
CHEVRON (>) OF THIS RANK EVERMORE.

HOWEVER, YOU MUST GIVE UP ALL YOUR
EQUIPMENT AND MOST OF YOUR MONEY TO
PAY FOR YOUR INITIATION.

PRESS [RETURN], HONORED ONES

Be warned that ALL of your equipment and most of your money WILL disappear. If you have anything extremely valuable that you would be heartbroken to lose, you might want to leave it with a non-party character before entering the room and killing Werdna!