Jump to navigation
Jump to search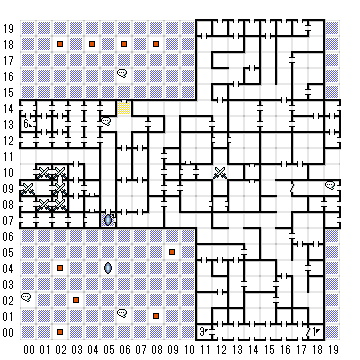 Churches of Fang and Hunters
[
edit
]
This floor is similar to the fourth, with enemies that give good experience per battle, and items with high value.
The first thing you should seek out is the "Crystal of Good". To get it, you will pass through a small one-way street and beat the Soul Trappers, Crusader Lords, and two groups of Crusaders at (13, 10). This is a difficult fight with such a large number of opponents, some of which use rather powerful magic against you.
Additionally, you can get another item called the "Rod of Flame". In order to get this, it is necessary to invade Fang's church from (19, 9). The Fang Priest who comes out in this area is a terrifying opponent. It is a tough battle, and the priest knows a number of spells to watch out for, especially LITOKAN and BADI. He will be accompanied by a number of cohorts as well. If you are successful, you will have to agree to spend 25,000 GP. Otherwise you are not permitted to proceed.
Another aspect of this floor to watch out for is the large dark zone. It only has one entrance. If you step inside, you'll have to pay attention to the pits in the area. There are some warps, and you can locate Abdul's taxi to get out of the area. This time he charges 5000 GP for a trip back to the castle. Your magic is sealed at the entrance.
There is a riddle at (5, 13). The question is: I AM ONE OF A DECK OF SEVENTY-EIGHT, AND VICTORY I FORETELL. TWO BOLD STEEDS DRAW ME FORTH, AND STARS SHINE FROM MY CROWN. WHAT CARD AM I?
Fifth floor riddle answer