Jump to navigation
Jump to search
This is the first game in the World Heroes series. For other games in the series see the World Heroes category.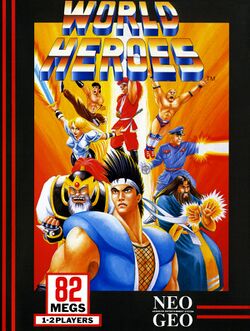 World Heroes is a fighting game series that was created by ADK for the Neo-Geo, though some of the games in the series were also ported to the Sega Saturn, SNES, Sega Genesis and Game Boy. The general premise was that a scientist, Dr. Brown, having perfected a time travel machine, organized a tournament for various fighters throughout all of history to combat each other. True to this plot, many of the fighters are based on actual historical figures.
World Heroes was seen as a weak attempt to imitate the success of Street Fighter II. It contained many similar concepts, e.g. the one woman, the one wrestler, the one character whose limbs stretched, and two identical fighters who differ only in appearance. In fact, those identical fighters' signature moves that are extraordinarily similar to Street Fighter II's identical fighters' moves.
World Heroes went on to generate three sequels which were increasingly popular. Many of the fighters from this series went on to grace NeoGeo Battle Coliseum. World Heroes is also available on the Wii Virtual Console.
Table of Contents
Appendices
Achievements and trophies
Character Select
[
edit
]