Jump to navigation
Jump to search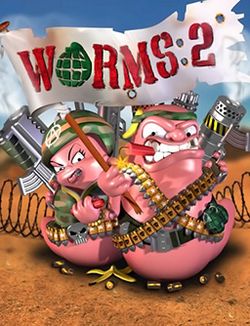 Worms 2 is an artillery game, which is a subgenre of strategy game developed by Team17 as part of the Worms series. The player controls a team of up to eight worms in combat against opposing teams.
The game features the same premise as the original game, and involves controlling an army of worms and using a collection of eclectic weaponry such as bazookas, dynamite, grenades, cluster bombs, homing missiles, banana bombs and the infamous holy hand grenade. These are among the basic weapons used to eliminate the opposing team(s) of worms. It features a completely new graphics system, going for a cartoon style, which has remained for the rest of the series.
Game play is turn-based, with each team moving in sequence (which is determined randomly) across two-dimensional terrain. During a single turn, a team can only move one of its worms. Worms can crawl and jump, as well as (when the appropriate items are available) swing by ninja-rope, parachute, teleport, and bungee. The objective of a traditional match or campaign mission is to defeat all opposing teams by killing their worms.
Table of Contents