Jump to navigation
Jump to search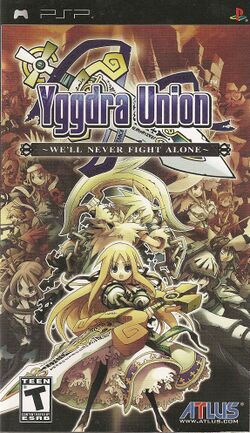 Neoseeker Related Pages
Links
Yggdra Union: We'll Never Fight Alone is a strategy RPG for the Game Boy Advance and PlayStation Portable, developed by Sting as the second episode of the Dept. Heaven saga of games. Atlus USA localized and published both versions of the game in North America.
The game is a tactical RPG with an overhead view of a 2D map, managing miniature versions of the units. A card system dictating unit movement and potential skills plays into both enemy and ally turns, as well as the "Union" formation system, in which massive battles can take place between several platoons. There are also some real time elements included during actual battle sequences, such as being able to control how units attack the enemy.
The story of Yggdra Union starts with the Princess of Fantasinia, Yggdra, fleeing her besieged home with the family heirloom, the Holy Sword Gran Centurio. Throughout the story, the idea that justice lies with the Holy Sword is used to drive Yggdra and her army forward through their plight, as well as to provide explanation to them for the acts they commit.
In the PSP version, additions were made to the story that further develop the Dept. Heaven universe and story, deeply tying the game into mythological elements first developed by Riviera: The Promised Land, with the more direct appearance of Diviners, and Grim Angels, and passing mention of Malice, Hector and The Seven Magi.
Table of Contents