Jump to navigation
Jump to search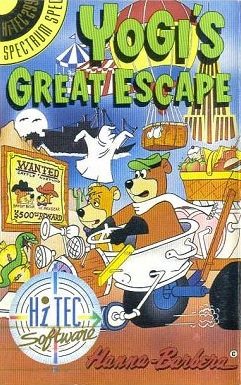 Designer(s)
Dave Thompson, Richard Morton, Ken Jarvis (ZX/CPC/C64),
Russell Knight (Atari 8-bit),
Gary Antcliffe (Amiga)
Genre(s)
Platform
Players
1
Modes
Single player
Yogi's Great Escape is platform game developed up by PAL Developments for Hi-Tec Software, and was released upon the Sinclair ZX Spectrum, Amstrad CPC, Commodore 64, Atari 8-bit systems, and Commodore Amiga in 1990; it is the second game for the Yogi Bear series, and is again based on the Hanna-Barbera television series of the same name (that originally aired in the US from 1960 to 1962).
This is from the back of the cassette's, or disk's in the case of the Atari 8-bit and Commodore Amiga (which is 16- and not 8-bit) versions, inlay card, the front of which is shown in the image to the right:
Another winter has past, it's time for Yogi to wake and begin his annual
hobby of relieving innocent campers of their picnic baskets.
A few days into the season, Ranger Smith receives a disturbing telephone
call informing him that Jellystone Park must close and all the animals are to
be moved to the zoo.
Yogi hears the news and he secretly decides that the only way to avoid being
sent to the zoo is to escape from Jellystone Park.
When Yogi goes missing, a tracker and his faithful old dog are brought in to
help with the search.
Playing the part of Yogi Bear, you must progress
through various scenarios, avoiding obstacles
and hidden dangers. If for any reason Yogi slows
down, Ranger Smith and the tracker are sure to
capture him and take him to the zoo.
© Hanna-Barbera Productions Inc. 1990
Table of Contents