Jump to navigation
Jump to search
This is the first game in the Yogi Bear series. For other games in the series see the Yogi Bear category.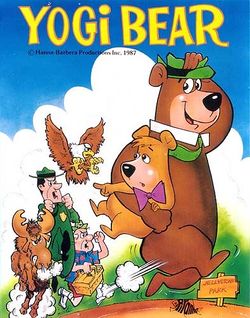 Yogi Bear is an action game that was developed by Dalali Software for Piranha and released on the Sinclair ZX Spectrum, Amstrad CPC, and Commodore 64 in 1987; it is based on the Hanna-Barbera television series of the same name which ran from 1960 to 1962 (but Yogi and Boo-Boo reappeared on The Flintstones in 1963 to steal Fred and Wilma's pic-a-nic basket when they went caravanning).
This is from the back of the cassette's inlay card, the front of which is shown in the image to the right:
For a bear that's smarter than the average, life in
Jellystone Park should be one long picnic. After all,
everyone knows picnics mean picnic baskets! But life
has taken a nasty turn. Poor little lovable Boo-Boo
has been "bearnapped" by a bloodthirsty hunter and
is a prisoner somewhere in the Park! Heroic as ever,
Yogi is on Boo-Boo's trail. But Jellystone's
a big place and you'll have to find plenty
tasty snacks to keep our trusty bear's
strength up. Especially since along the
way Yogi's pursued by angry campers, a
furious Ranger, ferocious animals and
homicidal hunters! Time's getting short
too. Yogi's hibernation season is
nearly here. So you'll need speed
and a lot of bare (ouch!) cunning to
rescue Boo-Boo before Yogi slumps
into his slumbers.
Step into Yogi's paws and see how
long you can survive in this bonanza of
fast-moving arcade action!
© Hanna-Barbera Productions Inc. 1987
Table of Contents