Jump to navigation
Jump to search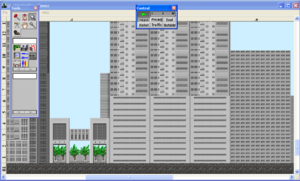 Yoot Tower is controlled with

. You need to know what the symbols mean.
There are many windows in Yoot Tower that have the controls for the game. The windows are:
Control Window
Tools Window
Information Window
Each window has different tools you can use.
Control Window
[
edit
]
The Control Window has the pause button and the different view buttons. Main View is the view that you see when you start. The other views are colors that show a tenent's evaluation, pricing info and traffic noise. And there is outside view, in which you can see the outside of your tower and place outside objects.
Tools Window
[
edit
]
Information Window
[
edit
]