Jump to navigation
Jump to search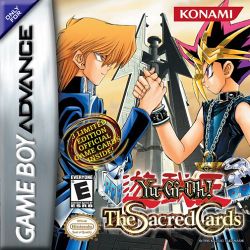 Neoseeker Related Pages
Links
Yu-Gi-Oh! The Sacred Cards, or Yu-Gi-Oh! Duel Monsters 7: Kettou Toshi Densetsu in Japan, is a Game Boy Advance game based on the Yu-Gi-Oh! anime developed and published by Konami. It was first released in Japan on July 4, 2002. It was released in North America the following year and in Europe the year after that. The game is based on the Battle City story arc of the anime. The player assumes the role of a friend of Yugi Moto as they compete in the Battle City tournament, although the rules in this game are different from the trading card game.
The game starts when the player and his two friends, Yugi Moto and Joey Wheeler are preparing for the Battle City tournament of the card game known as Duel Monsters. In order to win the tournament, the player must obtain six Locator Cards which are received after beating certain characters in Duel Monsters. After all of the locators are obtained, the player is entered into the finals.
The plot of game has the player searching for Marik, a mysterious player with a gang of card thieves known as the Ghouls.
Table of Contents