Moon Patrol
From StrategyWiki, the video game walkthrough and strategy guide wiki
Moon Patrol
Developer(s)
Irem
Publisher(s)
Irem (Japan), Williams (USA)
Release date(s)

 1982

Genre(s)
Action
System(s)
Arcade, Atari 2600, Atari 5200, Atari 8-bit, Atari ST, Apple II, ColecoVision, Commodore 64/128, Commodore VIC-20, MSX, MS-DOS, TI-99/4A, Sinclair ZX Spectrum
Players
1-2

Moon Patrol is a unique side scrolling shooter game in which you piloted a moon buggy that had to cross the rocky and pitted terrain of the moon while avoiding attacks from over head alien crafts. The moon buggy can fire both forward and up simultaneously and it can jump. It can be directed to drive faster or slower.
Moon Patrol's stages were labeled A through Z, and broken up into five sections, through which you were timed. As you proceeded across the surface of the moon, several layers of the background scroll by independently, making Moon Patrol the first game that featured parallax scrolling. And while you play, a catchy bass line is heard in the background.
Moon Patrol was developed in Japan by Irem, but it took off in America thanks to the distribution of Williams. Atari saw the game as a hot title to bring home and bought the rights to release it for home systems. They released it on several of their own platforms, and developed the title for other platforms through the Atarisoft label. It has since been included on several classic Midway collections.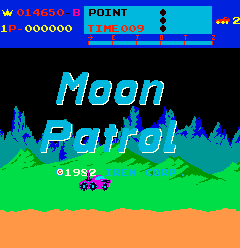 Take the role of a Luna City police officer assigned to Sector Nine, the home of the "toughest thugs in the galaxy."
Table of Contents
[edit]
Gameplay summary
You control the Moon Buggy. You can direct it to go faster, or slower, or travel at normal speed.
You can fire forward and upward at the same time, or you can jump.
You must avoid getting shot, hitting a rock, or falling into a pit, or you will lose a life.
You can fire at alien space craft overhead, or at rocks and boulder that approach from the front.
When you clear five letter sections (six at the end), your time is compared to the par and bonus points may be given.
After reaching letter Z of the practice course, the game starts over on the challenge course.