Metroid/Endings
From StrategyWiki, the video game walkthrough and strategy guide wiki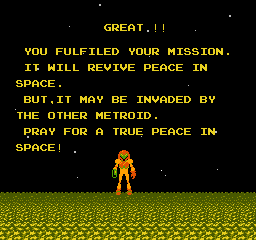 The ending that you receive is based on how long it took you to beat the game. After seeing the ending screen presented to the right, Samus will begin to flash and undergo some kind of change. Below you can see each of the endings you will receive based on your time.
Completion time
Ending
more than 10 hours
between 5 - 10 hours
between 3 - 5 hours
between 1 - 3 hours
less than 1 hour
Only really possible by continuing
after beating the game once.
After you watch the ending and the credits, you can press

to continue. The game will start over again, and you will return to the starting point of the game in Brinstar. You get to keep every power-up that you previously collected, with the exception of any Energy Tanks or Missile Packs, which must be collected over again.