Navalone
From StrategyWiki, the video game walkthrough and strategy guide wiki
Navalone
Developer(s)
Namco
Publisher(s)
Namco
Japanese title
ナバロン
Release date(s)

 1980

Genre(s)
Fixed/multi-directional shooter
System(s)
Arcade
Players
1-2
Navalone, also written as Navarone, is the first of three monochromatic arcade games released by Namco in early 1980 - the other two are Kaitei Takara Sagashi (which was originally developed by K. K. Tokki as a prototype) and SOS. It is a fixed/multi-directional shooter in which the player controls a boat moving around the edge of an island trying to shoot the pellets, mines and central skull while avoiding the bullets fired by the indestructible gun turrets.
[edit]
Island components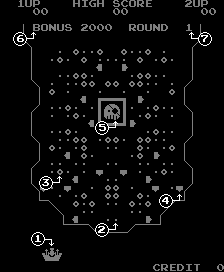 1: Boat - Use the 2-way joystick to direct it around the edge of the island and the Firing Button to make it fire a bullet from its cannon. You can only fire one bullet at a time - if you miss, you will have to wait for it to go off-screen before you can try again.
2: Pellets - 10 points. There are 100 of them to destroy on each round - and they will later become the sustenance of Namco's most famous character, Pac-Man.
3: Mines - 30 points. There are 50 of them to destroy on each round, and the explosion they create will also destroy any Pellets in their immediate surroundings.
4: Gun Turrets - Indestructible. There are 18 of them to watch out for on each round, and the bullets they fire at you can easily be cancelled out by one of your own.
5: Skull - 200-800 points. Each time you destroy a Mine, the indestructible wall surrounding it will rotate 90 degrees anti-clockwise to try and give you a shot at it.
6: Bonus Timer - Once you have destroyed all the Pellets and Mines on the current round, the value shown on it will be awarded to you in 100-point increments.
7: Round Indicator - Indicates the number of the current round. Once you have reached the hundredth round of the game, its display will roll over to "Round 0".