User:Zaiqukaj
From StrategyWiki, the video game walkthrough and strategy guide wiki
Zaiqukaj is back in action but still lazy and easily distracted. I'm also slowly working towards championing a new project or set of contests for fun's sake at Operation research.
[edit]
Current Status
[edit]
Availability

A little thank you…
For getting our
wanted categories
down to
one page
!.
Hugs,
najzere
T
04:18, 16 April 2009 (UTC)
When I'm around is pretty random. I most likely will still not be on IRC but do try to keep an eye on the recent changes when I'm online. I'm not much of a chatter and my computer still can't handle IRC. If you are dead set on chatting with the elusive Zaiqukaj then bug me on my contact page and I'll give you my Skype information. It is currently the only chat program I use.
Other than being on the constant lookout for vandalism I focus on cleanup, especially spelling sweeps and wikifying ASCII infested guides. It makes no sense why I love fixing those ASCII messes. If you want something ran through spell check or want me to proof read anything just give me a holler on my talk page. There is nothing Zaiqukaj loves more than being helpful.
Please note that I do not focus on walkthroughs. Cleanup and appendices are my thing. Most games are too fast paced for me to both enjoy and take notes at the same time (and lately I only have enough time to beat a game once if at all). If I do work on a walkthrough I'm horribly easily distracted while doing so.
[edit]
My favorite pages
[edit]
Specific task list
These are the main cleanup tasks I focus on. Please note my focus is quite scattered.
[edit]
Guides I plan on working on
Even though Zaiqukaj has a very limited amount of time for game playing there are a few titles she is slowly working on gathering information (through actually playing them) for.
Actively focused on
[edit]
Plotting notes
[edit]
Game Related
My favorite types of games are Puzzle, RPGs, and anything that involves raising monsters for combat (except for Robopon. Robopon is really bad.). I am the worst at realistic types of racers and any kind of game that involves me shooting anything without a plastic gun. Strangely shooting games are my favorites in arcades.
[edit]
Inventory
Even though I am horrible at completely beating games, I do hoard them.
[edit]
Hamtaro collection
Yeah I'm lame I collect Hamtaro stuff so I really really want to get a full collection of all the Hamtaro games (even if 2 are edutainment).
Games I have found so far
[edit]
ZOIDs collection
Also collect these but the games are really hard to find. List will be added later.
[edit]
Digimon
Despite some being bad I rather enjoy Digimon games.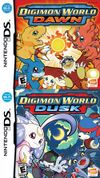 8th March 2009

Congratulations!



Zaiqukaj is the winner of the Walkthrough competition!
Your guide, Digimon World: Dawn and Dusk, was the winning walkthrough!