Zelda II: The Adventure of Link/Getting Started
From StrategyWiki, the video game walkthrough and strategy guide wiki
[edit]
Controls
[edit]
Overhead Map
| NES | GameCube | Wii-cc VC | Wii Remote | Description |
| --- | --- | --- | --- | --- |
| | | | | Use the direction pad to move Link in the four cardinal directions. |
| | | | | Once Link has obtained obtained the hammer, you can press the A button to wield it and smash down boulders that block your path on the roads. |
| | | | | Once Link has collected the flute, press the B button to play a tune on the magical instrument. |
| | | | | Press Start to pause and unpause the action mid-game. |
[edit]
Side Scrolling Controls
| NES | GameCube | Wii-cc VC | Wii Remote | Description |
| --- | --- | --- | --- | --- |
| / | / | / | / | Direct Link to run to the left or to the right. |
| | | | | Press down to make Link crouch. Doing this also moves Link's shield down so that you can block a lower attack. If you have the downward thrust move, pressing down while in mid-air will do a downward thrust attack. |
| | | | | If you have the upward thrust move, pressing up while in mid-air will do an upward thrust attack. |
| | | | | Press the A button to make Link jump. Press jump in conjunction with left and right to direct Link through the air. |
| | | | | Press the B button to make Link slash out with his sword. If he is at full health, this will also send out a magic sword-blade which travels a short distance. |
| | | | | Press Start to pause the game and call up the Sub-Screen. |
| | / | | | Once you have selected a spell from the subscreen, press this button to cast it, provided you have enough magic. |
[edit]
Starting the Game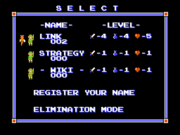 [edit]
Starting a New Game
Before you begin, you must first enter your name in one of the three save slots. Press Select until the fairy is next to "REGISTER YOUR NAME" and press Start. Use the Select button to line up the heart with the Link that you wish to name. Enter a name of up to eight letters using the control pad to select a letter and the A button to enter it. Once you have registered your name, line up the heart with "REGISTER END" and press Start.
[edit]
Erasing an Old Game
Press Select until the heart is next to "ELIMINATION MODE" and press Start. Use Select to move the fairy next to the Link that you wish to erase and press the Start button. This will erase that name. Move the heart to "ELIMINATION END" and press Start again. This permanently erases all the data for the Link selected so use with caution.
[edit]
Continue a Saved Game
On the selection screen, you can select a saved game to continue. Certain information can be seen from the selection screen. This information includes the save file's name, the current levels of Link's power, magic, and health, and the number of times Link has lost all of his lives for that save file. If there is a Triforce in the file, it means the save file in question is in the middle of the second quest.
[edit]
Game Over Options
If you want to continue the game, choose "CONTINUE" with the Select button and press Start. You will begin the game in the North Palace alongside sleeping Princess Zelda with full health and magic, with all of your possessions intact, but your current experience points will be reset to zero.
If you are done for the time being, choose "SAVE" with the Select button and press Start. All information about your accomplishments will be stored and retained until the next time you play.
[edit]
The Screen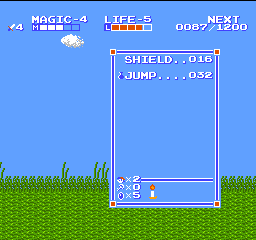 [edit]
Status Bar
The status bar can be seen at all times at the top of the screen. From left to right, you can see:
Link's current attack level.
Link's current magic level, and the current amount of magic power.
Link's current health level, and the current amount of health remaining.
Link's current experience points out of the amount needed for the next level.
[edit]
Sub-Screen
The Sub-Screen can be brought up by pausing the game. From top to bottom, you will see the following information:
Which of the eight spells Link has learned, and how many point of magic it costs to cast them (one portion of the magic meter is 16 points).
The number of lives that Link has remaining.
The number of dungeon keys that Link currently possesses.
The number of palace crystals that Link has left to place in statues.
Link's current inventory of items and equipment.