Jump to navigation
Jump to search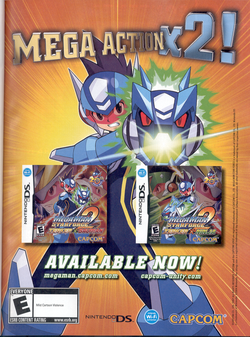 Mega Man Star Force 2, known in Japan as Shooting Star Rockman 2 (流星のロックマン2 Ryūsei no Rokkuman Tsū?), is the sequel to the Capcom's Mega Man Star Force: Pegasus, Leo, and Dragon. The game was first confirmed on April 12, 2007 in an issue of CoroCoro Comic. The same issue also revealed that a boss design contest would be held exclusively in Japan much like the same contests held for the Mega Man Battle Network games.
In a similar format to Mega Man Battle Network 5: Double Team DS, each game card contains two versions of the game, available as Zerker × Saurian (Berserk × Dinosaur in Japan) and Zerker × Ninja (Berserk × Shinobi in Japan). Like Mega Man Battle Network 5: Double Team DS, the two versions on the game are separate files, and have little to no interactivity with each other.
The game starts with a fifth-grade student named Geo Stelar, and his FM-ian partner, Omega-Xis. Set approximately two months after the events occurring in Mega Man Star Force, Geo has adjusted to life with Omega-Xis, and has made many new friends. It first shows Geo, excited about the fact that his new transfer has came in, something known as a Star Carrier, which he has waited two months for.
Table of Contents