Jump to navigation
Jump to search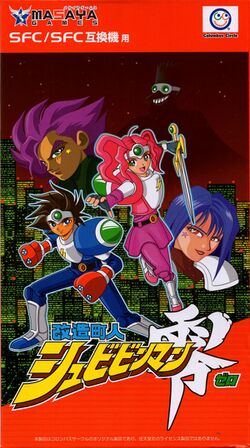 Kaizou Choujin Shubibinman Zero (改造町人シュビビンマン零, Kaizou Choujin Shubibinman Zero? lit. Remodeling townsman Shubibinman Zero) is a 1997 game for the Satellaview addon for the Super Famicom. It is a side-scrolling beat-'em-up developed by Masaya and published by NCS. It is the fourth and final game in Kaizou Choujin Shubibinman series, and the first on the SFC. The previous entries in the series were for the PC Engine.
The game is not a direct sequel to previous Shubibinman games, and instead features two new protagonists: Raita and Azuki.
Gameplay
[
edit
]
It is a side scrolling action game, where the player can make use of both fighting techniques and beam attacks. Players take control of either Raita or Azuki. Raita fights like a boxer, using physical attacks, and Azuki, fights with a sword and together they can use combo attacks. It features two player co-operative play.
Table of Contents