Jump to navigation
Jump to search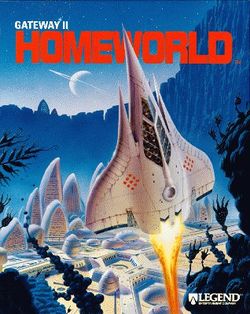 Gateway II: Homeworld is an interactive fiction game released by Legend Entertainment, and written by Glen Dahlgren and Mike Verdu. It was released in the US in 1993 for Windows and MS-DOS, and is a sequel to Frederick Pohl's Gateway.
The game hybridizes traditional parsers with illustration and mouse-based aids. It has a number of timed events, but the possibility of player death outside them is quite rare. Unwinnable states are possible, but difficult to achieve.
Gateway and Gateway II are based on Frederik Pohl's novels, but deviate significantly while still being similar enough to make both the games and the books severe spoilers for each other. Gateway II is set ten years after the first game, and bears less resemblance to the novels' plots while using more of their elements.
Table of Contents