Hellnight
From StrategyWiki, the video game walkthrough and strategy guide wiki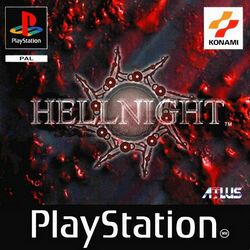 For the Windows and Xbox 360 game, see Dark Messiah of Might and Magic.
Hellnight, known as Dark Messiah in Japan, is a Japanese first-person-perspective horror video game developed and published by Atlus Co. in collaboration with Konami in 1998. The game's popularity was low, possibly because it wasn't released outside of Japan and Europe.
The game uses a first person perspective, very similar to first person shooter games, only without any means of combat. Throughout the game, players must travel through different areas of The Mesh and beyond and must solve puzzles to progress to the surface. The player will encounter only one type of enemy, and that is the mutating monster. The only possible way for players to survive is to run away. Any close contact with the enemy will result in the deaths of their companions (and finally themselves). Once they are attacked, they're killed off permanently.
Table of Contents