Kururin Squash!
From StrategyWiki, the video game walkthrough and strategy guide wiki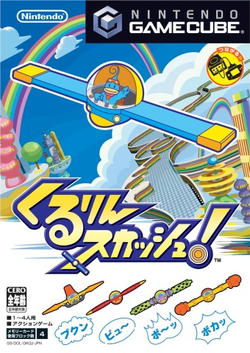 Kururin Squash! (くるりんスカッシュ!, Kururin Squash!?) is an action-puzzle video game developed by 8ing/Raizing and published by Nintendo for the Nintendo GameCube. It was released only in Japan on October 14, 2004. The game is the successor to Kururin Paradise and is the only title of the Kururin series with 3D computer graphics.
The Kururin family won the grand prize at a local lottery, which sent them on a cruise around the four countries of the world. The entire family enjoyed the trip, but upon returning home, they suddenly realized that they had returned with only three members of the family; Kururin, Kakarin, and Totorin. All of Kururin's siblings had disappeared during the trip! Kururin sets off to the four countries on the special helicopter "Helirin" in search of the others.
Table of Contents