Jump to navigation
Jump to search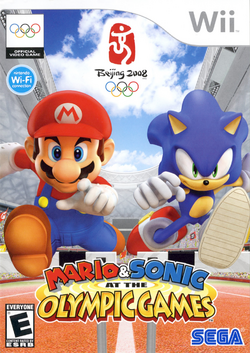 This guide is for the Wii game. For the Nintendo DS game, see Mario & Sonic at the Olympic Games (Nintendo DS).
Mario & Sonic at the Olympic Games (マリオ&ソニック AT 北京オリンピック Mario ando Sonikku atto Pekin Orinpikku?, lit. "Mario & Sonic at the Beijing Olympics") is a sports video game developed by Sega. It was published by Nintendo for Japan and by Sega worldwide. The game is officially licensed by the International Olympic Committee (IOC) through exclusive licensee International Sports Multimedia. The game is the first official crossover title to feature characters from both Mario's and Sonic the Hedgehog's respective universes. It was released on the Nintendo Wii in November 2007 and is the first official video game of the 2008 Summer Olympic Games.
Mario & Sonic on the Wii is a collection of twenty-four events based on the Olympic Games. Players can assume the role of a Nintendo or Sega character while competing against the others in these events. Players use

to mimic actions performed in real life sports, such as swinging a paddle. Both games closely follow rules and regulations of the specific sports. Sega adopted the IOC's mission of promoting a sporting spirit and its desire to interest young people in the Olympics by using its characters. Due to the aforementioned and the atmosphere of competitive sportsmanship the Olympics has to offer, Sega received approval by Nintendo to include Sonic in the game. Mario & Sonic at the Olympic Games is the second video game collaboration between Nintendo and Sega.
Table of Contents