Jump to navigation
Jump to search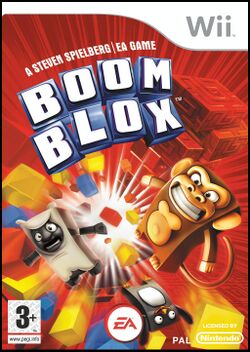 Boom Blox is a puzzle video game for the Wii console, mobile devices and N-Gage 2.0 developed by EA Los Angeles in conjunction with film director Steven Spielberg. The game was released on May 6, 2008, in North America and on May 9, 2008, in Europe. The N-Gage version of the game was released on December 3, 2008.
The game presents a series of physics-based puzzles, the objective being either to keep structures made of blocks from being knocked down or to knock them over by various means, using

to throw, shoot, and grab at the blocks. Boom Blox features a realistic physics system; the angle at which a projectile is launched and how fast it is thrown as well as the mass of the projectile and the type of blocks it comes into contact with influence the results of an action.
The game has over 300 single-player levels as well as over 100 cooperative and competitive multiplayer levels. Additionally, there is a mode that allows players to create their own levels and share them with people added to their Friend Code list via WiiConnect24.
Boom Blox has been described as Jenga meets Tetris Blast, Breakout, Duck Hunt, and Lego. Gameplay emphasizes reflexes, dexterity, and problem-solving skills. It features a physics model that ensures the blocks collapse realistically, and also measures the velocity at which an object is thrown, recognizing three distinct speeds. In the game, players use

to manipulate bowling balls, baseballs, laser guns, and water hoses in order to knock over structures made of blocks. Alternately, they use

to grab blocks in Jenga-style gameplay, taking care to remove a maximum number of blocks without toppling the precariously stacked tower.
Table of Contents