Jump to navigation
Jump to search
This is the first game in the Cho Aniki series. For other games in the series see the Cho Aniki category.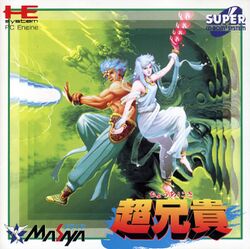 Cho Aniki (超兄貴, Chō Aniki?, lit. "Super Big Brother") is the first game in the Cho Aniki series. It was originally released in 1992 on the Super CD-ROM² System. Years later, the game was released as part of Project EGG for Windows Store and Wii's Virtual Console in Japan, North America, and Europe. This makes it the first time any game of this series has seen release outside Japan.
The game's plot involves the heroes moving through various locations — space, urban environments, elaborate ruins — and fighting alien invaders. Bo Emperor Bill (Botei-biru, a pun on bodibil, a shortened form of bodybuild in Japanese), the man who achieved ten consecutive victories in the Great Galaxy Bodybuilding contest, faces an ever-decreasing supply of protein. He unilaterally invades neighboring star systems, in order to establish protein factories to replenish his supply. Feeling threatened, the heaven realm sent Idaten and Benten to vanquish Bo Emperor Bill. Thus the sweaty hot battle between the muscle brothers (aniki) and Builders Army begins.
Table of Contents