Jump to navigation
Jump to search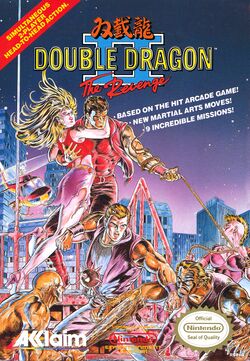 For the arcade version, see Double Dragon II: The Revenge.
Double Dragon II: The Revenge is a beat 'em up created by Technos Japan in 1989. It's a sequel to Double Dragon. The NES version includes more stages, different gameplay elements, and Ninja Gaiden-style cutscenes between stages.
The PC Engine CD-ROM version, developed by Naxat Soft, was released in Japan in 1993. This version was based on the NES game with enhanced graphics, CD soundtrack, and voice-acted cutscenes.
Table of Contents