Jump to navigation
Jump to search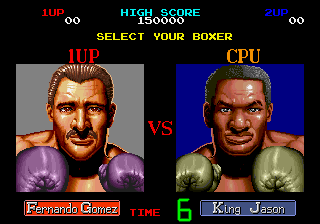 Once you have inserted either one or two coins into the cabinet of Taito Corporation's 1988 boxing arcade game Final Blow and pressed on either Start Button, the game shall proceed to the boxer selection screen shown above as its introductory theme starts to be heard from the Yamaha YM-2610; you will both have ten seconds to select two of the five boxers by pushing the joysticks left and right, then pressing any button to confirm your choice (if you had only inserted one coin and pushed the 1 Player Start Button the CPU will randomly decide which boxer it's going to predetermine the behaviour of).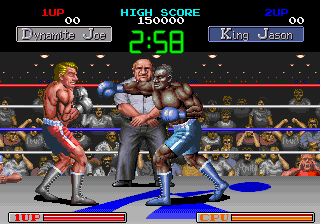 The camera shall now pan down to the two chosen boxers in the ring (which has Taito's then-new triangular logo on its floor) as the crowd of fans cheer in the background, and the referee says "In this corner, wearing red trunks, and weighing (1P's chosen boxer's weight) pounds, (1P's boxer's nickname), (1P's boxer's name)!" from the Yamaha YM-2610 as 1P's boxer taunts his opponent - and the referee will then say "And in this corner, wearing blue trunks, and weighing (2P's chosen boxer's weight) pounds, (2P's boxer's nickname), (2P's boxer's name)!" from of the Yamaha YM-2610, as he taunts his opponent. Both boxers' names will then fly into view from the left and right sides of the screen as the referee says "Fight!" from the Yamaha YM-2610; the game's first main theme shall now start to be heard from it as a timer appears between the two names at the top of the screen and starts counting downwards from 3:00 (in one-player games) or upwards from 0:00 (in two-player games). Both players must use the 8-directional joysticks, to direct their two boxers around their respective halves of the screen while pressing the three buttons to make them punch out at each other and duck - and the referee shall give them encouragement as they do so. Once either boxer's energy has been drained to two-thirds he will go down and the referee will start counting from 1 to 7; however, he shall get back up again, and can continue fighting his opponent until his energy has been drained to one-third, at which point the same thing will happen again. Once his energy has been completely drained, the text "3 DOWN" will appear on the screen, and the referee will count from 1 to 10, before calling "Out!" from the Yamaha YM-2610 - and the winning boxer will then say "I won!" or "I did it!" from it. In a one-player game, if it was your boxer who lost, your game will be over - but if he won, you will proceed on to the next match. If he manages to defeat the three remaining boxers in their respective matches, he will be declared "Heavyweight Champion of the World"; however, in a two-player game, the game will immediately end after one match. This game has a total of five different ending sequences (one for each boxer), showing them being interviewed by the press while the credits roll:
STAFF
SOFTWARE
I.F · ICHIRO FUJISUE
M.K · MASAYA KINOSHITA
YOU · YUICHI OHNOGI
ISW · TAKAYUKI ISHIWATA
CHARACTER
ABE · YUKIWO ISHIKAWA
KAZ · KAZUHIRO NUMATA
HARDWARE
KAT · KATUJIRO FUJIMOTO
M.Y · MINORU YOSHIMURA
CABINET
H.Y · HISAYUKI YAMAGUCHI
Y.A · YOSHIHIRO AKIYAMA
ART DESIGN
A.N · AKIO NOMURA
SOUND
ZUNTATA SOUND TEAM
GAME DESIGN
ABE · YUKIWO ISHIKAWA
KAZ · KAZUHIRO NUMATA
SPECIAL THANKS
FOR ALL OTHER PEOPLE!
THANK YOU FOR
YOUR PLAYING!
After the credits have finished (in a one-player game), the game will go into high-score mode; your score will most likely be the highest upon the cabinet to date, so you should enter your initials at the top of that high-score table with pride. Once you have done so, the game shall go back into attract mode.