Jump to navigation
Jump to search
This is the first game in the Game Tengoku series. For other games in the series see the Game Tengoku category.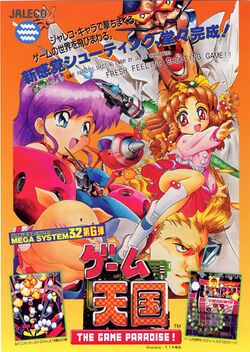 Game Tengoku (ゲーム天国, Game Tengoku?) is a 1995 vertical-scrolling shooter arcade game developed and published by Jaleco. The game is a parody of arcade shooters in a vein similar to the Parodius series. It was followed up with a sequel, Gunbare! Game Tengoku 2.
An updated port of the Sega Saturn version for PlayStation 4 and Microsoft Windows, titled Game Tengoku CruisnMix, was released on November 29, 2017. The official English localization was released on November 29, 2018. A port for Nintendo Switch was released in Japan on December 19, 2019. It was released in North America and Europe on May 28, 2020.
Table of Contents