Jump to navigation
Jump to search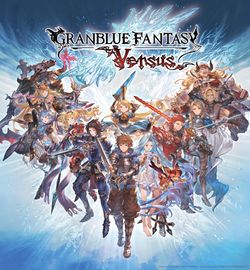 Granblue Fantasy Versus is a 2.5D fighting game developed by Arc System Works for the PlayStation 4. It is based on the RPG Granblue Fantasy, and was released in Japan by Cygames on February 6, 2020, and in North America by XSEED Games on March 3, 2020. A Microsoft Windows release was officially announced for March 13, 2020.
Granblue Fantasy Versus is mainly a fighting game where the goal is to eliminate the opponent by using a combination of attacks to empty their character's life bar enough times to win the match. Each character has special abilities called "Skybound Arts," which correspond to skills that the character is able to use in the main Granblue Fantasy game. In an attempt to make the game more accessible to new players, each Skybound Art can be triggered with a simple button press, but the player will have to wait for a short cooldown period before they can use it again. However, if the player uses a more advanced combination of movement and button presses to launch the attack, the cooldown time on the skill will be shortened.
The game also contains a story mode. Unlike the main fighting game mode, the story mode will be more of a side-scrolling, beat 'em up, action role-playing game. The story mode is slated to include exclusive bosses and minions to battle, setting weapon grids, and a co-op mode.
Table of Contents
Character Select
[
edit
]