Jump to navigation
Jump to search
This is the first game in the Jade Cocoon series. For other games in the series see the Jade Cocoon category.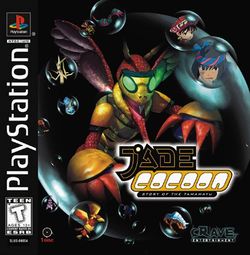 Neoseeker Related Pages
Links
Jade Cocoon: Story of the Tamamayu (玉繭物語, Tamamayu Monogatari?) is a video game for the Sony PlayStation, released by Crave in 1998. The game combines elements of RPGs and virtual pet management. It was developed by Genki in collaboration with Katsuya Kondō, character designer for the Studio Ghibli movies Kiki's Delivery Service and I Can Hear the Sea.
Jade Cocoon is set in a world where most of the land is covered in dense forest; populated by bizarre, mostly bug-like monsters called Minions. The only safe havens are small villages, one of which is the home of the protagonist, Levant. Levant is a young Cocoon Master, whose job is to capture and purify the Minions. The Minions can then be used to fight and defend Levant, spun into silk for money, or fused with other Minions to form more powerful combinations. Fused minions take on physical characteristics of both its parent creatures, allowing the player to customize the appearance of each one, as well as its abilities. Each minion has a collection of elemental attacks which can be passed from generation to generation. Strategy generally follows a rock/paper/scissors pattern (Wind beats Earth beats Water beats Fire beats Wind), as each wild Minion has an element (although fused Minions may have more than one).
Table of Contents