Jump to navigation
Jump to search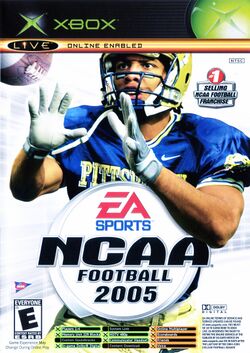 Neoseeker Related Pages
Links
NCAA Football 2005 is an American college football video game which was released on July 15, 2004. The product features former Pittsburgh Panthers and current Arizona Cardinals wide receiver Larry Fitzgerald on the cover.
The main focus of NCAA Football 2005 is home-field advantage. While playing at home is an advantage in any sport, amateur or professional (especially in the playoffs), some say the concept of home-field advantage matters most in college football. Hence, the major addition to the 2005 game is the "Top 25 Toughest Places to Play", compiled by EA Sports. These rankings are based on home winning percentage, average attendance, and "atmosphere" (i.e., fan rowdiness and noise). For 2005, the Top 25 was as follows:
Ben Hill Griffin Stadium, Florida
Neyland Stadium, Tennessee
Ohio Stadium, Ohio State
Tiger Stadium, Louisiana State
Autzen Stadium, Oregon
Husky Stadium, Washington
Kyle Field, Texas A&M
Camp Randall Stadium, Wisconsin
Memorial Stadium, Nebraska
Sanford Stadium, Georgia
Kinnick Stadium, Iowa
Michigan Stadium, Michigan
Lane Stadium, Virginia Tech
Doak Campbell Stadium, Florida State
Notre Dame Stadium, Notre Dame
Memorial Stadium, Clemson
Beaver Stadium, Penn State
Oklahoma Memorial Stadium, Oklahoma
Jordan-Hare Stadium, Auburn
Carrier Dome, Syracuse
Bryant-Denny Stadium, Alabama
KSU Stadium, Kansas State
Mountaineer Field, West Virginia
Martin Stadium, Washington State
Miami Orange Bowl, Miami
Players with the home field advantage on defense can increase the crowd's volume before the snap by repeatedly pressing a certain button on the controller, depending on the system (on PlayStation 2, it's

). Likewise, the player with the home field advantage on offense can quiet the crowd with one press of the same button. Crowd noise may affect the quarterback's ability to get an audible across to his other players. If the noise is sufficient, when the quarterback tries to call an audible, one of his teammates will come down to him and gesture that he can't understand him.
NCAA Football 2005 was the last game in this series to be published for the Nintendo GameCube, and the first EA Sports game to be playable on Xbox Live.
Table of Contents
NCAA Football 2005/Table of Contents