From StrategyWiki, the video game walkthrough and strategy guide wiki

Spoiler warning! This section of the article contains spoilers, or hints about the game's storyline or progression.
You might want to skip down to the next heading if you do not want facts about the game's storyline or plot revealed to you.
Listed in order of increasing level.
White Hippo
[
edit
]

Japanese Name:
Level: 200
Experience: 5,000
Coins: 40,000
Price:
Appearance:
Attack:
Magic:
Special:
Comments:
Dino Rider
[
edit
]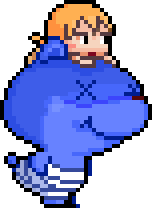 Japanese Name:
Level: 220
Experience: 4000
Coins: 30000
Price: 50000
Speed: 2
Appearance: Dino looks more like a blue teddy bear with a comically large head and a diaper.
Attack: Pounds the ground. Medium range, can hit 3 or more times.
Magic: Strong uppercut. Medium range, often hits twice -- once on initial contact, then once at the peak of when the enemy is in the air -- and sends the enemy flying to the top of the screen.
Special: Makes a noise similar to a doorbell, then an explosion hits the enemy many times, usually for a 5 combo. Long range, but can be canceled if the enemy strikes before the attack fires. Takes a while to perform, but worth it. Stay out of the range of the enemy when you fire off one of these or else they'll hit you and waste your special.
Comments: Almost too easy to get combos with this character. If you go up against a meat-shield or a boss, you should expect to get a 4 combo bonus or greater at the end of the match. Try to keep the enemy alive long enough for your combo to finish by dumping points in defense and health. This character cannot double-jump.
Ghost Boy
[
edit
]

Japanese Name: オバケボーイ(obake boi)
Level: 380
Experience: 5000
Coins: 35,000
Price: 65,000
Speed: 4
Appearance: A boy with dark gray hair, a purple shirt, and black pants.
Attack: Swipes at the opponent. Looks like a white ghost-like object flying away from the direction of the attack. Medium range.
Magic: Takes a step forward to launch a cloudy circle and burst in the direction of the attack. Medium range. Takes a bit longer to fire than the attack move.
Special: Transforms into a large gray-brown machine that fires a blue flame at the opponent. Long range.
Comments: Dino Rider is a better boss to use. This character is not useful for combos. Can double-jump. Has 20 more health, 2 more attack, 7 less magic, 3 more defense, 1 more speed, and 2 more intelligence than Princess Kofuki.
Happy Hippo Rider
[
edit
]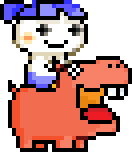 Japanese Name:
Level: 400
Experience: 6,000
Coins: 45,000
Price:
Appearance:
Attack:
Magic:
Special:
Comments:
Flying Hippo
[
edit
]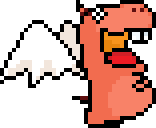 Japanese Name:
Level: 500
Experience: 8000
Coins: 60000
Price:
Appearance:
Attack:
Magic:
Special:
Comments:
Demon Barbarian
[
edit
]

Japanese Name:
Level: 999
Experience:
Coins:
Price:
Appearance:
Attack:
Magic:
Special:
Comments: