Jump to navigation
Jump to search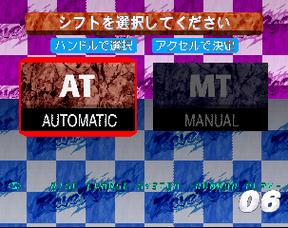 Once you have inserted your coin into the cabinet of Namco's 1995 racing arcade game Rave Racer, you shall have six seconds to choose between AT (Automatic Transmission) and MT (Manual Transmission); if you select the former, the gear shifter and clutch pedal will be disabled, but if you select the latter, they will not. You can also use the gear shifter, to choose one of twelve new songs to hear from the C352 custom sound chip during the game:
| Disc 1 | Disc 2 |
| --- | --- |
| 1: WRONG LOVE | 1: RARE HERO 3 (PACIFIC MIX) |
| 2: BLUE TOPAZ | 2: YORORERI HEY |
| 3: EXH*NOTES | 3: EUPHORIA |
| 4: ROTTEN 7 | 4: TEKNOPERA |
| 5: KAMIKAZE | 5: HEART OF HEARTS |
| 6: JAZZ MISSION | 6: HEAT FLOOR |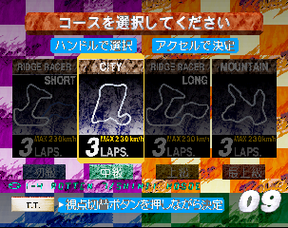 You will then have ten seconds to choose one of the game's four tracks; in addition to the original "short" Ridge Racer track from the first two games and its "long" variant from their "Time Trial" modes there are also the new "City" and "Mountain" tracks. Your car will have to complete three laps of a track to win, and its maximum speed on all four tracks is 230 km/h - and you shall see advertisements for various older Namco games as you drive around them. To invoke the "Time Trial" mode in this particular Ridge Racer game, you'll have to step on the gas pedal while you are holding the View Change Button.