Jump to navigation
Jump to search
This is the first game in the Rabbids series. For other games in the series see the Rabbids category.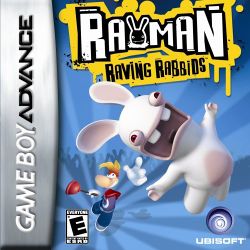 This guide is for the GBA platformer. For the Nintendo DS platformer, see Rayman: Raving Rabbids (Nintendo DS). For the party game, see Rayman: Raving Rabbids (Wii).
Rayman: Raving Rabbids is a platform game developed by Visual Impact Productions and published by Ubisoft for the Game Boy Advance. It is the fourth game in the Rayman series. This game spawned the Rabbids spinoff series as it was simultaneously released with two other games with the same name: a platformer for the Nintendo DS and a multiplayer party game for home consoles.
Rayman is captured by an army of rabbits and placed in a dungeon-like prison. He must escape with the help of his friends and save the day.
Table of Contents