Jump to navigation
Jump to search
This is the first game in the Scribblenauts series. For other games in the series see the Scribblenauts category.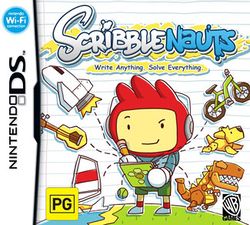 Scribblenauts is an emergent puzzle action video game developed by 5th Cell for the Nintendo DS and published by Warner Bros. The game was released September 15, 2009 in North America, in late September 2009 in Australia and the United Kingdom, and in Japan on January 27, 2011. It is the third Nintendo DS video game made by 5th Cell, the first two being Drawn to Life and Lock's Quest. The objective of Scribblenauts, as implied by its catchphrase "Write Anything, Solve Everything", is to complete puzzles to collect "Starites", helped by the player's ability to summon any object (from a database of tens of thousands) by writing its name on the touchscreen. The game is considered by its developers to help promote emergent gameplay by challenging the player to solve its puzzles within certain limitations or through multiple solutions.
Gameplay
[
edit
]
The player controls a character named Maxwell, who must collect objects called "Starites" to complete each level. Maxwell is guided by tapping the touchscreen, or if the player taps an object, Maxwell will pick it up or be given other options for interacting with that object, such as riding a horse or bicycle or shooting at an object if he holds a weapon. A fundamental element of Scribblenauts is the ability of the player to summon myriad objects into the game. This is achieved by writing the name of an object on the touchscreen (or via keypad). For example, the player can write "ladder", summoning a ladder, which the player may use to climb to an out-of-reach Starite. The player may turn the ladder on its side and set it on fire. The player may also chain objects together, such as chaining a piece of meat to a pole and holding it while riding on a raptor. As such, the developers consider the game to strongly promote emergent gameplay.
Table of Contents