Jump to navigation
Jump to search
This is the first game in the Shinobi series. For other games in the series see the Shinobi category.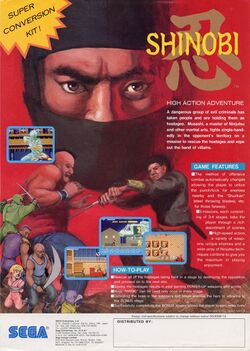 Shinobi
Developer(s)
Sega, Backbone Entertainment
Publisher(s)
Sega, Asmik, Tengen
Year released
1987
System(s)
Arcade, Sega Master System, Amstrad CPC, Atari ST, Commodore 64/128, Commodore Amiga, DOS, MSX, TurboGrafx-16, NES, Wii, Xbox 360
Followed by
Shadow Dancer
Series
Shinobi,
Sega Ages
Neoseeker Related Pages
Links
For the Game Gear game released as Shinobi, see The GG Shinobi.
Shinobi (忍 -SHINOBI-, Shinobi?) is an arcade game, developed and published by Sega. It was originally released in 1987 and ported to numerous systems. The game spawned numerous sequels.
A re-worked version was released for Xbox 360's Xbox Live Arcade on June 10, 2009 with HD support and online leaderboards. The original coin-op version of the game was released for the Wii Virtual Console in Japan on July 14, 2009, in the PAL regions on October 23, 2009 and in North America on December 7, 2009.
Shinobi is about a ninja named Joe Musashi who has to stop a criminal organization called "Zeed" who are kidnapping the children of the Oboro clan. Through five missions of increasing difficulty, Musashi must make his way to Zeed's headquarters and free all the hostages before confronting Zeed's leaders known as "Ring of Five", which are formidable enemies on their own. "Ring of Five" are the bosses at the end of each level. Below is the list of them.
Ken Oh - A gigantic samurai-like wizard who can throw fireballs.
Black Turtle - A leader who is piloting or aboard an attack helicopter.
Mandara - A Hinduistic guru who is, in fact, cyborg.
Lobster - A large samurai with a V-shaped symbol on his head who wields a sword.
Masked Ninja - The main leader of Zeed and the last boss, he is a powerful ninja with vast magical and physical powers. His true identity is revealed to be Nakahara, Joe Musashi's mentor. Nakahara's name is a reference to the Musashi-Nakahara Station. His name is meant to be a hint of his true identity as "Nakahara Musashi", Joe Musashi's father.
Table of Contents