Jump to navigation
Jump to search
This is the first game in the Shantae series. For other games in the series see the Shantae category.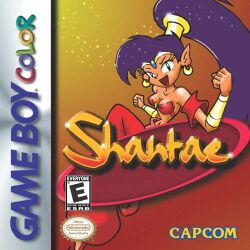 Neoseeker Related Pages
Links
Shantae is platform game for the Game Boy Color and was re-released for the Nintendo 3DS. Shantae is a half-genie guardian of Scuttle Town. The lady-pirate, Risky Boots, attacks the town and steals a steam engine. Shantae must use her hair whipping and belly dancing abilities to retrieve the steam engine and stop Risky Boot's plans.
Table of Contents