Jump to navigation
Jump to search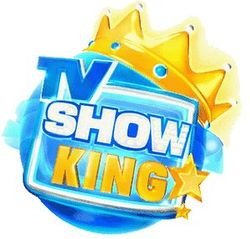 TV Show King is a quiz video game by Gameloft. It was released as one of the WiiWare launch titles in North and Latin America on May 12, 2008. It was also released later for iPod in November 2008, and then PlayStation Network in August 2009.
An expanded follow up to the game, called TV Show King Party, was released in North America on October 28, 2008 also for the Wii. However, unlike the first game it was a retail release.
Up to four players, represented by Miis, compete against each other in a three round trivia contest. The 3,000 trivia questions cover a wide range of subjects, ranging from geography and general knowledge to pop culture, with a number of region specific questions. Players are given timed multiple choice answers, and the two highest scoring players are pitted against each other in the Final Duel to determine the winner.
In addition to the main game, a shorter quiz called "Quiz Attack" is also available for solo players.
Table of Contents