Jump to navigation
Jump to search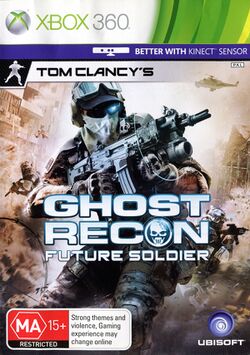 Tom Clancy's Ghost Recon Future Soldier is a third-person tactical shooter video game.
Announced in January 22, 2009 and trademarked in December of that year, the game was to be released on the 2009-2010 fiscal year, but after a number of delays, was released on Xbox 360 and Playstation 3 consoles in the US on May 22, 2012. The PC version was cancelled in December 2011 citing piracy reasons, and instead Tom Clancy's Ghost Recon Online was to be released in its place. However, a PC version was re-announced on January 10, 2012, and released on June 26, 2012 in the US.
While investigating weapons trafficking in Nicaragua, a Ghost team is wiped out by a dirty bomb. A new Ghost team is tasked with finding the source of the weapons. However, as they follow the trail, they run into an even bigger conflict and ultimately cause an international incident. A rogue Russian spec-ops team known as Raven's Rock is then revealed, and working with them are a group of Spetsnaz that have access to similar equipment as the Ghosts, known as The Bodark.
Features
[
edit
]
The game features over 40 base weapons which can be customized using Gunsmith. Gunsmith allows players to customize nearly every part of their weapons, including optics, paint, triggers, magazines, under-barrel attachments, side-rail attachments, gas systems, barrels, muzzles, and stocks. Other weapons are unlocked in a variety of ways, including Uplay, DLC, or exclusive retailers.
During combat while taking cover, players can be suppressed by machine gun fire. This decreases the player's field of vision and the screen begins to shake, making it difficult to return fire. If engaged in open combat, the player can prioritize up to four targets by marking them. Outside of combat, during the recon phase, marking targets allows the player to use a synchronized attack, so long as the Ghosts' cover is not blown. This is known as a Sync Shot.
New to the series is the Adaptive Camouflage. When the player crouches and moves slowly, the Ghosts become near-invisible. However, if the player fires their weapons, runs, or takes damage, the camouflage is disengaged. The player is also given an UAV drone, which can be used to recon the battlefield to mark enemies for a Sync Shot, and when used on the ground, has Adaptive Camo and a Sonic Blast that stuns and disorients enemies for a short time.
Table of Contents