Jump to navigation
Jump to search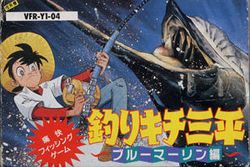 Tsurikichi Sanpei: Blue Marlin Hen (釣りキチ三平 ブルーマーリン編, Tsurikichi Sanpei: Blue Marlin Hen? lit. Fishing Maniac Sanpei: Blue Marlin Chaper) is a fishing simulation game developed by Victor Interactive Software. It was published in Japan for both the Famicom and the MSX home computer in 1988. It is based upon the Japanese manga Tsurikichi Sanpei, which was written and illustrated by Takao Yaguchi. The manga was serialised in Kodansha's Weekly Shōnen Magazine from 1973 to 1983.
The series is about a boy who discovers that he has a talent and a huge passion for fishing, and tries to maximize his potential by entering into different fishing contests. He encounters all kinds of rivals and companions who help him increase his skill. As he faces various challenges, he learns to solve difficult problems and learns from his mistakes to the extent that he is able to fish anything out of the water.
In the game, Sanpei is competing for the top prize in the "1988 Famicom International Billfish Tournament" by capturing the largest Blue Marlin possible. The game was never released outside of Japan, or translated from Japanese.
Table of Contents