Jump to navigation
Jump to search
This is the first game in the Turok series. For other games in the series see the Turok category.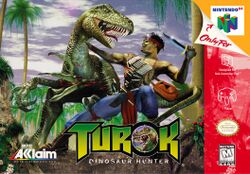 Neoseeker Related Pages
Links
Turok: Dinosaur Hunter is a first-person shooter video game released for the Nintendo 64 game console and later for Microsoft Windows. It was released in 1997, and is based on the Acclaim Comics comic book series of the same name. It is the first game in the Turok video games series.
In Turok: Dinosaur Hunter, the player controls the Native American Tal' Set, referred to as "Turok". He must stop an evil cyborg, "The Campaigner", from conquering the Lost Land and possibly the universe. The reception of Dinosaur Hunter was generally positive, with a score of 87% on Game Rankings, and the gaming magazine Edge referred to it as "second to none."
Table of Contents