Jump to navigation
Jump to search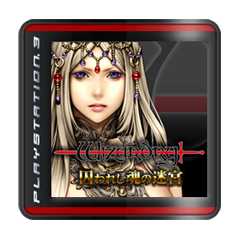 Wizardry: Torawareshi Tamashii no Meikyū (ウィザードリィ 囚われし魂の迷宮, , Wizardry: Prisoners of the Soul Labyrinth?) was originally released in Japan, and later localized in English as Wizardry: Labyrinth of Lost Souls. It is a dungeon crawler developed by Acquire and published by XSEED Games for the PlayStation Network. The game is very similar to the first game in the series, Wizardry: Proving Grounds of the Mad Overlord. The player controls a party of up to six characters, venturing deep into a dungeon on a series of quests.
The Wizardry series was originally developed for the Apple II and released in the United States in 1981, but later it has been kept alive in Japan by various developers. The dungeon-crawling role-playing game franchise was last seen in the West as the 2001 duo of Wizardry 8 for Windows and Wizardry: Tale of the Forsaken Land for the PlayStation 2. Wizardry: Labyrinth of Lost Souls is the first game of the Wizardry series in English in ten years.
The game received an expansion, Shūdō On'na no Akaki Kage (修道女の赤き影, , The Red Shadow of the Nun?), in 2011. That same year, it also spawned a direct sequel, Wizardry: Torawareshi Bōrei no Machi (囚われし亡霊の街, , Wizardry: Prisoners of the Ghost City?).
Table of Contents