Jump to navigation
Jump to search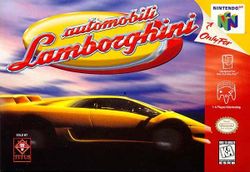 Automobili Lamborghini is a 1997 Racing game by Titus Software, similar to the Need for Speed or Ridge Racer series. In 1998, a slightly improved version was released by Taito in Japan as Super Speed Race 64 (スーパースピードレース64).
There are 4 modes of play: Championship, Single Race, Arcade and Time Trial. In a race, if the players' cars run out of fuel or has their tires worn down, they are urged to take a pit stop where they engage in a brief minigame. Automobili Lamborghini featured nine cars that resembled actual supercars. These resembled cars such as the Porsche 959, Ferrari F50, Ferrari Testarossa, Dodge Viper, the McLaren F1, and the Bugatti EB110, that could be unlocked by winning championships. These were joined by the two default cars, which resembled the Lamborghini Countach and Lamborghini Diablo.
Automobili Lamborghini holds a reasonably significant title in that it was the first ever racing game on a console to allow 4 players to race on the same track at once. Mario Kart allows 4 players at once but this was with a lack of computer controlled players. The game was commended for its good graphics, adventurous racetracks, and sense of speed, though it's somewhat spartan features attracted criticism.
Table of Contents