Jump to navigation
Jump to search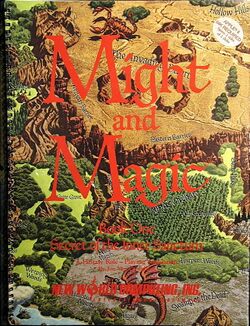 Might and Magic, Book One: Secret of the Inner Sanctum is the first game in the Might and Magic series. It was developed by Jon Van Caneghem and originally released in 1986 for the Apple II. Ports for three Western systems followed soon (C64, DOS, Mac), then it was localized in Japanese for several more systems. One of the latter ones, the Famicom/NES port, was re-translated back to English.
The only port that is significantly different from the others is for the PC Engine (TurboGrafx-16), released in Japan only in 1992.
This game was also re-released as a part of Might and Magic VI: The Mandate of Heaven: Special Edition in 1998 as well as Might and Magic 6 - Pack in 2012.
Chaos has reigned over the land of VARN, enveloping it under a veil of terror and danger. In the town of Sorpigal, a group of adventurers have gathered in (or near) the inn. They have decided they will travel together and find the source of this chaos in order to destroy it. The party will travel town to town as they solve various issues caused by a villainous reign. Eventually, they will learn about the Inner Sanctum and an evil that lives beyond the physical plane...
Gameplay[edit]
You play as a party of six as your team goes through a series of dungeon crawls in order to find who is causing havoc throughout the land. With a large world and non-linear exploration, this game helped set several standards for future role-playing games. It takes heavy inspiration from the Wizardry series.
As with most earlier role-playing game titles, the game can be brutal and unforgiving. Persistence and planning are key to make it through games like these. The early ports of this game can vary wildly from one another. Even if you're struggling, you may have a better time with another version of the game.
Table of Contents