Santa Claus no Takarabako
From StrategyWiki, the video game walkthrough and strategy guide wiki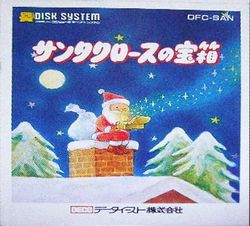 Santa Claus no Takarabako (サンタクロースの宝箱, Santa Claus no Takarabako? lit. Santa Claus' treasure chest) is a Christmas themed party game developed by Musical Plan Ltd. for the Famicom Disk System, and published by Data East in Japan in 1987. There are two modes to play: creating a Christmas card and or playing a few party games with friends. While you can play with it by yourself, it was not particular designed for that.
Controls
[
edit
]
X'mas Card
[
edit
]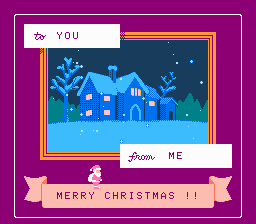 The main menu has five options to pick from.
Message: Type the Christmas message you want to, like the one that is there by default.
Screen: Change the background music as well as the background image.
Santa: Draw something else besides the Santa picture that is given.
Run: View the card you have created along with music, message and the animated Santa (or custom image).
Save: Keep your creation on file for later.
Party Games
[
edit
]
These games should be played with more than one person.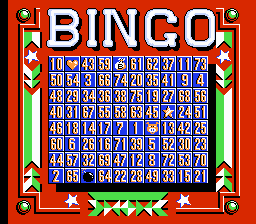 This isn't really a game here per se. It serves as a number draw for you to play the real Bingo at home. The game seems to do nothing else but draw number after number with no real outcome.
Roulette
[
edit
]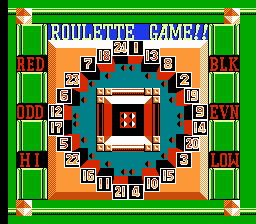 As before, this isn't a game. It is just a roulette wheel that turns and shows you if the number is black or red, odd or even, or in the higher or lower ranges of the available numbers (24). You are supposed to bet on a number or range yourself, and just see if you guessed correctly. You are just seeing who in your group wins and who doesn't.
Slot Machine
[
edit
]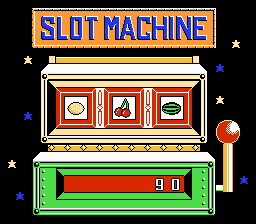 This is actually a real game. You start with 100 units. Each bet costs 10, and you pull the level with

.

and

reset the game whenever you want or have run out of money. The following are some, but not all winning combinations.
| Reel 1 | Reel 2 | Reel 3 | Payout |
| --- | --- | --- | --- |
| CHERRY | | | 10 |
| CHERRY | CHERRY | | 50 |
| CHERRY | CHERRY | CHERRY | 100 |
| 7 | 7 | | 100 |
| 7 | 7 | 7 | |
| MELON | MELON | MELON | 200 |
| APPLE | APPLE | APPLE | 300 |
| LEMON | LEMON | LEMON | |
Poker Dice
[
edit
]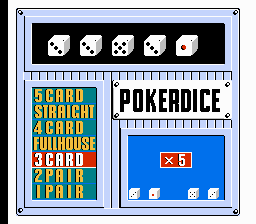 Think of the dice like a card hand in a poker game. You can have:
You do not have any money or bets, but you can bet outside of the game or see who rolls the best between a few friends.