Jump to navigation
Jump to search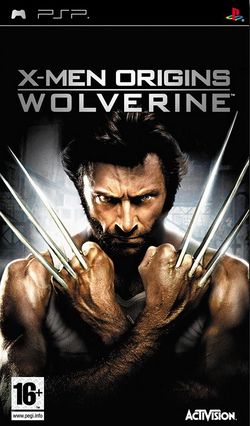 X-Men Origins: Wolverine is a game loosely based on the film of the same name. The game release coincided with the release of the film on May 1, 2009 for the PlayStation 3, Xbox 360, Windows, Wii, PlayStation 2, Nintendo DS, and PlayStation Portable. The game was developed primarily by Raven Software, who used Unreal engine technology to develop the game. Amaze Entertainment developed the Wii/PS2 ports and Griptonite Games (PSP/DS) developed the PSP/DS ports. Origins was published by Activision.
The game allows players to take control of James "Logan" Howlett (codenamed Wolverine) and for the first time in a video game discover the character's origins.
Story
The storyline is comprised of a combination of the Wolverine backstory being explored in the movie of the same name as well as original story created by Raven Software. The primary storyline is the back-story of Wolverine. Uncovering his origins from his birth in the 19th century, formative years in rural Canada, through his military service and eventual recruitment to Col. William Stryker's Weapon X program.
Table of Contents