Jump to navigation
Jump to search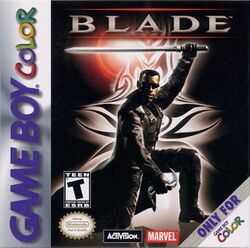 For PlayStation version, see Blade.
Blade is a video game based on the 1998 film adaptation of the Blade comic book character. The player takes control of the title character as he makes his way through various vampire-infested locations in order to defeat the vampire menace. Blade ventures through warehouses, sewers, museums, and city streets, dispatching numerous types of enemies ranging from familiars (humans that do a vampire's bidding), vampires, zombies, monsters, killer dogs, and other creatures of the night.
The Game Boy Color version of the game is a Beat 'em up game, with an arcade-style shooting segments.
Table of Contents