Jump to navigation
Jump to search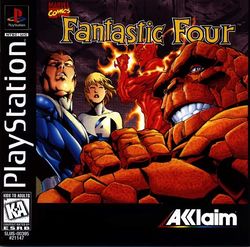 Neoseeker Related Pages
Links
This guide is for the 1997 PlayStation game. For other games featuring the Fantastic Four, see Fantastic Four. For the game released in 2005, see Fantastic Four (2005).
Fantastic Four is a PlayStation game developed by Probe Entertainment and published by Acclaim. The game was released in 1997 in Europe and North America and in Japan in 1998, and is based on the popular Marvel Comics characters of the same name.
Doctor Doom has developed a device that transports the Fantastic Four (and the She-Hulk) to various locations to do battle with various monsters and supervillains. One or two players (or up to four with a special adaptor) can control Mr. Fantastic, Invisible Woman, The Thing, Human Torch or She-Hulk through various side-scrolling arcade levels until Mr. Fantastic is able to assemble a time machine that allows him to transport the team to Doom's tiny kingdom for a final battle. While Galactus does not appear in the game, it is clear that he is behind the destruction of the Skrull homeworld.
Table of Contents