Jump to navigation
Jump to search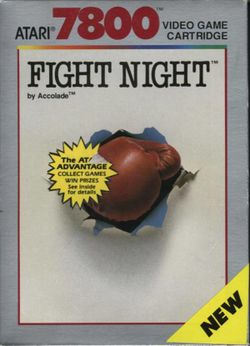 For the unrelated EA Sports series, see Category:Fight Night.
Fight Night is a 1985 boxing game. It was developed by Sydney Development Corporation and published by Accolade in the United States and by U.S. Gold in the United Kingdom. It was released for various systems of the era including the Apple II, Atari 7800, XEGS of the Atari 8-bit family, Atari ST, and the Commodore 64.
The game included both a single player mode and multiplayer mode. Also featured was the ability for the player to customize the player's boxer. In total, there are about twelve boxers to beat. The version on the Atari 7800 is especially clunky and slow paced.
The Atari 8-bit version was later republished on cartridge by Atari for the XEGS.
Box artwork
[
edit
]
Table of Contents