Jump to navigation
Jump to search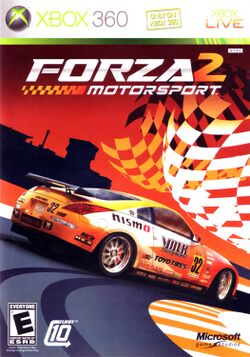 Forza Motorsport 2 is a racing simulator on the Xbox 360 games console, the sequel to Forza Motorsport (Xbox). The Microsoft Xbox 360 Wireless Racing Wheel was developed alongside Forza 2 and is designed to work with the game.
Most cars in Forza 2 can be visually customized with both aerodynamic parts and graphics. Up to 1,000 layers of graphics can be created with the livery editor to draw shapes, letters and pictures onto a car. Paint schemes can be auctioned online to other players with Forza points.
The game supports split-screen, System Link and Xbox Live multiplayer gaming. Split-screen allows two player head-to-head racing, while both System Link and Xbox Live allow up to eight players to participate in a single race. Using Xbox Live, players can also buy and sell in-game cars through the game's Auction House.
Forza 2 concentrates on circuit racing; point to point races have been removed.
The damage and physics in the game have been revamped over the previous game, allowing for multiple settings: "simulation," which is the most severe, allowing for damage that can take a car out of commission; "limited," which scales down the severity of impact of crashes; and "cosmetic," where the damage is merely visual. The damage ratings for each part of the vehicle can be seen on the HUD (heads up display) accessed from the in-game menu.
Forza 2 runs at 60 frames per second in 720p resolution (HD), with replays running at 30 frames per second to accommodate additional after-effects.
Table of Contents